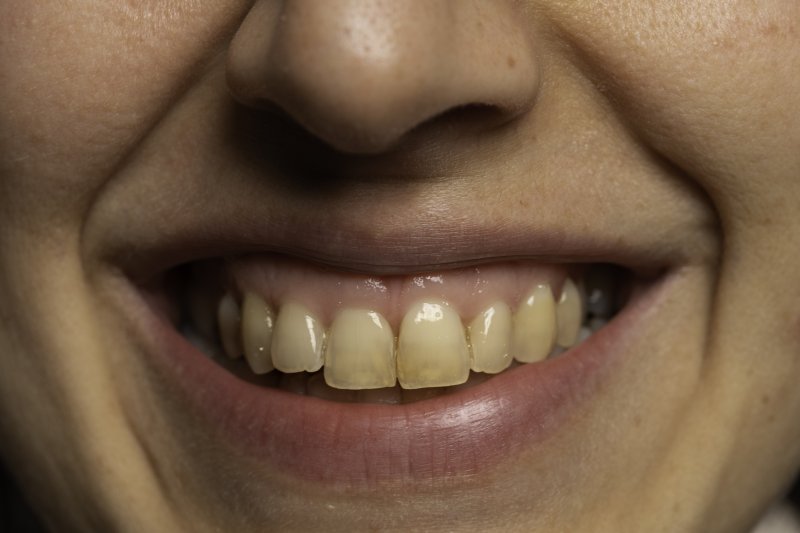 Are your teeth the color you'd like them to be? It is natural for teeth to become discolored over time from eating pigmented foods and aging, but it is still something that so many people are self-conscious about. Have you every thought about what the color of your teeth may say about you and your lifestyle? Continue reading to learn more about why your teeth are the color they are as well as what you can do to brighten them up.
What Does Your Tooth Color Say About You?
Everyone's smile is different. Here are some common tooth colors and what it may say about you:
White: When you are young and growing, this is when your teeth look the whitest. Kids aren't exposed to as many pigmented foods and beverages, and primary teeth are more calcified than permanent teeth are. The layer of the tooth that is beneath the enamel, known as the dentin, is a much lighter yellow color in baby teeth rather than adult teeth, so they do not show through as much.
Light-Gray or Light-Yellow: Permanent teeth aren't as naturally white as baby teeth because of the tooth's structure. The dentin is more yellow, and the enamel darkens as you age. Ultimately, when the dentin begins to show through your teeth over time, your teeth are likely to end up this light-gray or light-yellow color.
Yellow: Even though your teeth become darker as you age, if yours appear to be more on the yellow side, this probably means that they have become stained by the foods and drinks you are consuming. If you like to drink coffee, tea, or red wine on a regular basis, this can occur.
Brown: If your teeth are brown, this is likely the result of yellow stains worsening. This can happen as a result of age, injuries, medication, and genetics. Some common culprits are smoking and chewing tobacco.
What Can You Do to Reverse Teeth Discoloration?
In addition to regular brushing, flossing, rinsing, and dental cleanings, you could opt for teeth whitening in Temple in order to reverse discoloration. Purchasing teeth whitening kits over the counter doesn't usually give you the dramatic results that you are hoping for. Instead, you could ask your dentist in Temple about professional teeth whitening kits. Custom trays will be crafted to be the perfect fit for you. You will also receive a whitening gel that is much stronger than you can find in stores. This way, you can get the noticeably whiter teeth you're looking for in just a few weeks.
If you are dealing with discoloration, you don't need to settle for it. By asking your dentist about professional teeth whitening, you can be one step closer towards a smile you're proud to show off!
About the Author
At Pazmino Dentistry, you have not one, but two skilled dentists serving patients in the Temple area. Dr. Breya Pazmino and Dr. Manuel Pazmino both earned their Doctor of Dental Surgery degrees from the New York University College of Dentistry. To learn more about professional teeth whitening or to schedule an appointment, visit their website or call (254) 778-3587.