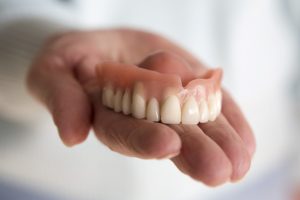 Improvements in dentistry have allowed dentures in Temple to closely replicate your natural teeth. Now, they are more comfortable than ever because they offer a snug fit; however, there are times a denture adhesive might be beneficial, but only if it's used correctly. Here's to ensure you have the best fit using common adhesives.
Do I Need an Adhesive?
Not everyone with dentures needs an adhesive. According to the Cleveland Clinic, patients can advantage from an adhesive under certain situations:
Need better strength and hold for a higher sense of security.
Alleviate issues caused by dry mouth.
Added stability for frequently speaking engagements.
Although an adhesive can be helpful for many people, it may not be the ideal choice for people who:
Don't practice proper oral hygiene.
Allergic to the material.
Overly uncomfortable dentures.
Very old dentures.
Require more and more adhesive for a secure fit.
How Do I Use an Adhesive?
If you're ready to give an adhesive a try, you'll need to determine which type is right for you. They are available in pastes, powers, stripes, and wafers; however, pastes are the most popular. If you're not getting the results that you want using one type, don't hesitate to give another one a try. Here's how to apply it correctly for a secure fit.
1. Clean Mouth and Dentures
Before placing your denture in your mouth, it's essential you clean your gums, tongue, and roof of your mouth to eliminate plaque. This will help to avoid irritation while promoting healthy circulation. Once your mouth is clean, rinse your dentures and brush them using a soft-bristled toothbrush.
2. Apply Adhesive
Apply the adhesive to your dentures by following the package's instructions. It can take trial and error to determine the correct amount to apply. If you're using too much, the adhesive will overflow into your mouth. On average, a 2.4 ounce of adhesive should last both lower and upper dentures for 7-9 weeks.
3. Put in Your Dentures
After the adhesive is in place, carefully position them in your mouth. Hold them in place for a few seconds to allow the adhesive to stick to your gums.
At the end of the day, don't forget to clean your dentures and fully remove the adhesive from them. You'll also need to clean any adhesive residue from your gums using a soft-bristled toothbrush. Once you've cleaned your dentures, place them in a soaking solution overnight.
Speak and Smile Confidently
Don't stress about your dentures slipping or falling out any longer. An adhesive will give you the support you need to laugh, talk, and smile confidently because you'll know your dentures will stay exactly where they should.
About Dr. Manuel Pazmino
Dr. Pazmino earned his dental degree from the New York University College of Dentistry, and he regularly continues his training to provide modern services. As a trusted dentist in Temple, he can treat your tooth loss using the latest advancements in dentistry. If you're ready to replace your missing teeth, contact our office today to schedule your consultation for dentures.