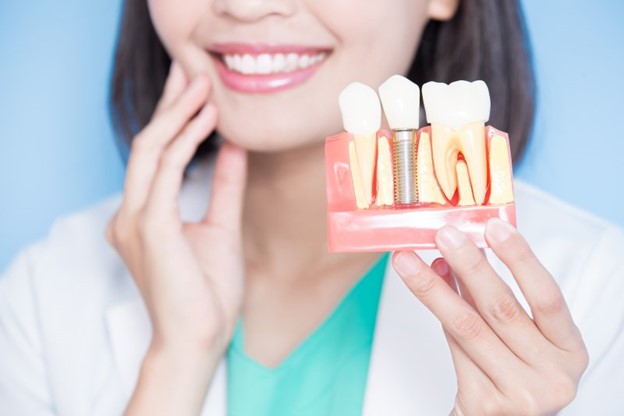 Are you ready to make the switch from dentures to dental implants? Maybe your dentures aren't working for you, or you're wanting a more permanent solution for tooth replacement. Whatever your reason, the transition from dentures to dental implants doesn't have to be complicated. Here's what you can expect when you make the switch from dentures to implants.
Why Should I Transition from Dentures to Dental Implants?
Many people find that switching from dentures to dental implants improves their quality of life. While everyone's situation is unique, here are some of the main reasons you may want to make the transition:
Unlike dentures, dental implants don't slip around in your mouth. This eliminates bothersome "clicking" sounds
Implants don't press on your gums or trap food against them like dentures
Your implants don't require special care and can be treated like natural teeth. That means no more annoying adhesive or soaking
Dental Implants look like real teeth and can give you a more natural smile
The Transition: What to Expect
If you're considering making the switch, there are a few things you should consider.
Bone Grafting
Some people may require a bone graft before they get dental implants. They can be necessary in instances where there isn't enough bone in the jaw for the implants to be placed. The graft adds volume to areas where bone loss may have occurred, restoring volume and density.
The bone graft works by acting as scaffolding, allowing bone tissue to regenerate and the area to heal. Your dentist will examine your mouth and determine if a graft may be necessary before you receive dental implants.
Using Dentures with Implants
Some people are curious if it's possible to use dentures with dental implants. This is sometimes a possibility, and your dentist may recommend this option.
Implant dentures can either be permanent or removable. Permanent dentures are attached to the implants and aren't meant to be removed like regular dentures. Your dentist will only move the dentures if they need to be replaced. Removable dentures can be detached and cleaned. Sometimes, older dentures can be adjusted so they can attach to implants.
You may be a candidate for implant dentures if:
You don't use tobacco or smoke
You don't have gum disease
You have a strong jawbone
You have lost several or all of your teeth
You are in good health and don't have any pre-existing conditions that affect your body's healing process
Making the switch from dentures to dental implants can be life changing. If you're considering the transition, talk with your dentist to determine if you're a good candidate.
About the Author
Dr. Pazmino developed his passion for dentistry from his parents—his mother was a dentist and his father was a dental technician. After earning Bachelor degrees in Biology and Psychology from Rutgers University and the New Jersey Institute of Technology, he went on to receive his DDS from New York University. Dr. Pazmino is experienced in cosmetic and restorative dentistry and has expertise in dental implants. If you have questions about switching from dentures to implants, visit his website or give him a call at (254)778-3587.