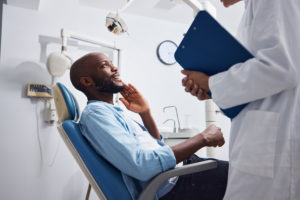 Within the last few decades, dental implants have become the go-to solution for tooth loss for many people. The cutting-edge technology has lent itself to an impressive 95% treatment success rate, and the approach of restoring the entirety of the missing tooth's structure from the roots upward allow this procedure to offer lifelike and comfortable results. The first step towards finding out whether dental implants are the right choice for you is scheduling a consultation, but what can you expect during this process, and is there anything you should do to prepare?
X-Rays and a Visual Examination
Before a dentist can determine whether you're a good candidate for this procedure, they'll need to conduct an examination of your mouth and facial structure by capturing X-Rays and other advanced images. This will allow the dentist to view your jawbone and determine whether any additional procedures may be required for the success of your implants, like a bone graft. This will also allow the dentist to better answer any questions you may have and help develop your treatment plan.
Answering Your Questions
To better understand the ins-and-outs of this process and be able to compare it to other tooth replacement options, it's a good idea to come to your consultation prepared with any questions you may have. While your dentist will take the time to explain the treatment to you, they may not go into as much detail as you'd like, or touch on specific things that you'd like them to if you don't ask. So, be sure to keep a questions list in your phone for your appointment!
Developing Your Customized Treatment Plan
Once your dentist has had a chance to examine your mouth, they'll walk you through a treatment plan that they've developed to address your unique tooth loss situation. This should include going over a timeline of the procedure and helping you book necessary appointments, going over your anesthesia and sedation options, talking about the recovery period and what you can expect, and providing you with aftercare instructions to help your implants last a lifetime.
Talking About Cost
Finally, once your treatment plan is complete, your dental team will be able to discuss cost details with you. Many dental insurance plans don't cover the cost of dental implants because they view them as a "cosmetic" procedure, but with assistance from your provider's financial team, they'll be able to help you determine your financing options and walk you through when payments will need to be made for different portions of the treatment so you can fit it into your budget.
Your first step towards enjoying a complete and functional smile again is to schedule a dental implant consultation. Most people agree that they're glad they did once they're able to have their concerns addressed by their dentist and learn more about the procedure!
About the Author
Dr. Manuel Pazmino, Jr. is a first-generation Cuban American and earned his DDS degree from New York University College of Dentistry. He has advanced training and experience in dental implants, allowing him to place them in-house for added convenience to his patients. He's a detail-oriented and kind provider who is always happy to answer his patients' questions. To learn more about dental implants, visit our website or schedule a consultation by calling 254-778-3587.