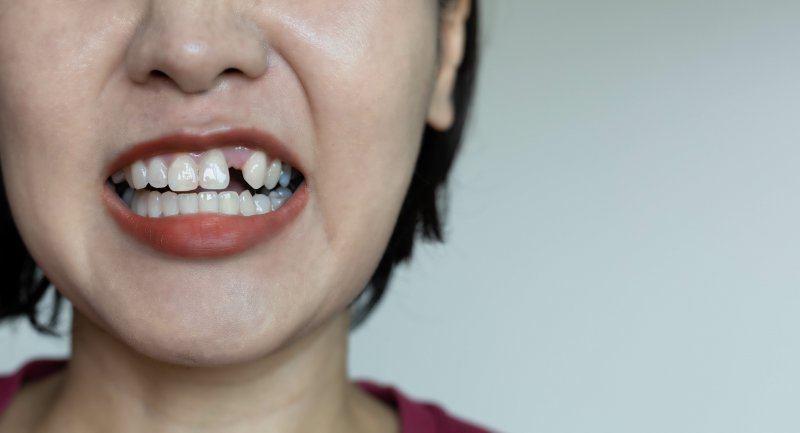 If you lose teeth, it's likely to affect your appearance in some pretty obvious ways—namely, having a big gap in your smile.
However, there are other, more subtle ways in which tooth loss can change how you look. For one, tooth loss can change the shape of your face in subtle ways that can make a big impact. Here's why that is, and what you can do about that.
How Tooth Loss Can Change the Shape of your Face
Your body is incredibly effective at making the best possible use of its finite resources. When you lose a tooth, your body starts to think that the area of your jaw that once held it isn't useful, and stops sending nutrients to it. The result is that the jaw begins to shrink.
This bone loss means that the face has less support than it would otherwise. This can cause the cheeks to sag, leading to premature wrinkles and what some patients describe as a "natural frown." These changes are subtle, and if you experienced them you might not even be aware that they could be connected to tooth loss.
How to Prevent Bone Loss
If you're missing a tooth, there are things that you can do to avoid bone loss. The biggest one is getting dental implants. Placing a dental implant into the jaw stimulates it, encouraging the body to send nutrients its way. Other tooth replacement options can be incredibly sturdy, but dentures and bridges alone aren't capable of stopping bone loss along the jaw.
If you've been missing a tooth for a while, a dentist might also give you a bone graft before you get a dental implant. This will replace some of the bone that you've lost, allowing the dental implant enough of a stable foundation to set in.
If you lost a tooth recently, or had one extracted, getting a dental implant is the best thing you can do to ensure that missing a tooth doesn't negatively affect your appearance.
About the Author
Dr. Manuel Pazmino's favorite thing about being a dentist is helping to relieve people's pain and to put them at ease. He loves seeing the relief on someone's face when they take a look at their new teeth in the mirror. Dr. Pazmino earned his D.D.S. from the New York University College of Dentistry. He's completed over 400 hours of continuing education since, and become a faculty member at Spear Education.
If you have any questions about how tooth loss can affect your appearance, we can be reached at our website or by phone at (254) 778-3587.